18th May 2017
Want to know what you can do with a 360 degree camera?
Take beautiful 360 videos and photos to capture the entire moment around you
A photo taken at the crossroad of Riga, Latvia.
A field of trees ready for the Autumn change, captured in 360.
Create Globe Photos that place your surroundings as if you were standing on a tiny globe!
The city of Dresden, depicted like a giant city on a tiny globe!
Look at the sky, turned into the surrounding atmosphere of this grass globe!
Create interactive experiences where viewers can see your surroundings. See this pilot fly his plane from take-off to landing!
https://www.youtube.com/watch?v=HEEIzZ7UjRg
Post engaging videos onto your Facebook wall! Let your friends see everything around you. Ones like this!
https://www.youtube.com/watch?v=D9-i_F3xYhI
Editor's Choices for 360 Degree Cameras
· Amazing 4K quality for pictures and videos
· Waterproof, shockproof even freezeproof
· Removable battery
· Videos instantly post to YouTube and Facebook. No need for aftermarket software
· 4K resolution
· 64GB internal storage
· Single button use
· Pairs to your phone
· Live Streaming available
· Simple to use
· Lightweight and simple device
· Compact size makes it easy to carry
· Good build quality
360 too expensive? Try a regular action camera first!
27th Mar 2017
Start your spring off healthy with the most popular fitness tech!
There is no better time to start your new fitness training and healthier lifestyle than Spring. Temperature is rising and there's more daylight to spare. Moreover, eGlobal has you covered with the best prices for these gadgets. With great features to help keep track of your workouts and your health, these little devices are sure to motivate you!
Fitbit Charge 2 HR – The fashionable and trendy option for the average active person
Fitbit has lead the charge in bringing fitness tracking to the masses. With the huge popularity in their first rendition of Charge HR, Charge 2 HR is quite possibly the most complete fitness device for the average user. The new charge has a larger screen for better viewing and interchangeable bands. These are great quality of life changes to the device. However, the best addition to these devices are the two new apps: VO2 Max and Guided breathing.
VO2 Max application will give you a score that judges your fitness compared to others like your demographic, thus giving you a good picture of how healthy you are. It is already a standard for fitness scoring and is a great addition to the Charge 2. Guided breathing on the other hand helps to calm you down after or before exercises. It continuously tracks your heart and guides you on how deep and quickly you breathe. This sort of exercise also destresses and helps you relax.
Featured Highlights
Sleek and lightweight design
Accurate VO2 Max Data and Guided Breathing
Built-in Heart Rate Monitor
Garmin fenix 3 HR – The professional's choice with amazing build quality
As one of the largest fitness trackers out there, the Fenix 3 promises one of the most feature packed watch. Even though his newer brother the Fenix 5 is out, this only means this watch becomes a better deal as the price has been lowered due to the Fenix 5 release.
The Garmin fenix 3 will plot your hikes, runs and walks along with the built-in compass accurately. For those that wish to go on extended hikes (or just prefer not to have a watch to charge every few days) the Fenix in our tests has lasted for five weeks as a watch and up to 50 hours of hiking and sport.
The build quality of the Garmin is sturdy and can withstand a lot more with its stainless steel frame. You can even upgrade the Gorilla Glass 4 display to a Sapphire one.
Featured Highlights
Built-in Heart Rate Monitor
Native app system is strong (Connect IQ)
SUUNTO Traverse Alpha – Featured packed watch great for hiking and active people
As the oldest model of the bunch the Traverse from SUUNTOhas been one of the most consistent and well-reviewed fitness watches. The reason why this is one of our best sellers is quite simple; it gets the job done at a very reasonable price. The SUUNTOhas all the great and important features for an outdoorsman but they ensure that it is very affordable.
The SUUNTO Traverse Alphaalso allows up to five different sport modes, thus giving you the flexibility to change what is displayed easily. This device's trail and hiking route mapping also makes it a beauty to hike with.
Featured Highlights
Built-in Topographic Maps
Fitbit Charge 2 HR

Garmin fenix 3 HR

SUUNTO Traverse Alpha

Time Display

Yes

Yes

Yes

Water Rating

Sweat, rain, and splash proof

10 ATM; withstands pressures equivalent to a depth of 100 meters

328' (100 m)

Heart Rate Sensor

Yes

Yes

No

GPS

No

Yes

Yes

GLONASS

No

Yes

Yes

Wireless

Bluetooth LE

Bluetooth 4.0, ANT+, Wi-Fi

Bluetooth LE

Battery Life

Up to 5 days

Up to 40 hours in UltraTrac mode
Up to 16 hours in GPS training mode
Up to 2 weeks in smartwatch mode (with 24/7 HR monitoring)

Up to 14 days in time mode
25th Jan 2017
Perfect Valentine's Day Gifts for your Partner and Friends!
Valentine's Day is a day of giving and love. What is better than a brand-new gadget that your partner or friend will use all the time? A part of you will always be with them, giving them smiles and sweet thoughts!
To make it simple for you to make the decision here is a guide for you to save you time.
Below £150
Samsung Galaxy Tab E 9.6 T560 8GB WiFi Tablet
Our color choice – White
Nothing screams beautiful like the Samsung Galaxy Tab E with a great 9.6 inch screen size for cuddling time in bed to watch YouTube and videos. This tablet is an amazing media device. Plus white is a great color that will match any outfit on a guy or girl!
Fitbit Charge 2 Heart Rate + Fitness Wristband
Strap to your partner's wrist, the Fitbit charge will ensure he or she will stay healthy and walk the daily recommended steps! If your new year's resolution is to be more healthy with your partner, get two to have matching devices.
£151-£300 – A little more money for a whole lot more love!
Canon EOS 1300D Kit with 18-55mm III Lens Digital SLR Camera
Has your partner been sorely lacking a quality camera and complained at the photos that you take? Or maybe you want to capture the endearing moments to look back on later? Look no further as we strongly recommend the Canon 1300D, with a great versatile 18-55mm lens, this camera will ensure you do not miss a moment in a light small body DSLR.
Beats By Dr. Dre Solo3 Wireless On-Ear Headphones - Rose Gold
Alright, alright. Rose Gold headphones? How many companies have Rose Gold headphones? Not many. Definitely not many that have the oomph in bass and music quality of the Beats Solo3. These headphones can be used at the gym, on your daily commute, at home. But no matter where you wear these, these are a fashion statement! (For the boys I definitely suggest black, unless you can rock the Rose Gold!)
£301-500 – Love is IN the air!
GoPro HERO5 Action Camera - Black Edition
No one else builds a better action camera than GoPro. And with the latest rendition of Hero5 even the most non-techy person can use this device with smart voice controls and a waterproof body that does not require an external case. Make sure you capture every moment on your honeymoon or trip to an island as this can be used on land or below water. You will be watching these 4K videos back with your partner for days.
DJI Phantom 3 Standard RTF Kit
Feel like flying? Want to catch the love that is in the air? Enter DJI Phantom 3. The entry model priced drone with all the bells and whistles of a high end one. This drone will capture shots like you never thought you could. Remember to bring this along to your next trip to capture the scenery and surroundings around you. Who doesn't want a zoom out shot after you've climbed that giant hill?
Above £501+ - Wow. Really? You are SPOILING this person!!
Sony Cybershot DSC RX100 IV Digital Cameras
Crème-de-la-crème. Top of the ranks. Best of the best. The RX100 line from Sony has been a long time favorite with everyone here in the office. Whenever someone needs a recommendation for a compact camera no one skips a beat in recommending this. The quality of photos for the size of this device is unrivaled. But the real question, can this photo take a photo with a nice focused subject and a beautifully creamy blurred background? Yes. The 1.8 aperture lens can definitely do this.
Samsung Galaxy S7 Edge G9350 32GB Dual SIM – Pink Gold
The iconic S7 edge, was one of the most daring and most beautiful smartphone of 2016 with all the highest accolades from reviewers across the world. Now with the Pink Gold option, this phone is the perfect gift for your partner. This color is unique and rare, so you can stand out and be unique. And of course every time your partner looks at the phone, they will definitely be reminded of you.
However, this is just our recommendations. There are so many more choices out there for you, but one thing is for sure, eGlobal Central has an item right for your partner and friends. A gadget or electronic that he or she will be sure to use daily.
29th Nov 2016
eGlobal's 2016 Top Holiday Gift Picks – The only guide you'll need!
Top Pick Gift
Fujifilm Instax Mini 8
This little fellow is in the heart and dreams of many. The ability to instantly print out any memory serves as a great gift, and one that can immediately be used upon opening! Make sure you buy some Instax Film paper too!
Waterproof Portable Speaker
JBL Charge 3
It may not be summer anymore but a waterproof speaker can be used in a shower and near your bathtub with no worry at all. The JBL Charge 3 is an amazing sounding speaker that is IPX7 water resistant ensuring you can play your music anywhere you want.
Biggest Oomph Portable Speaker
JBL Xtreme
The JBL Xtreme may be big, but it comes with ultra-powerful performance and features. With deep and low bass, and clear mids and highs, this will surely blast your parties with sound for all corners of the room to enjoy.
For more speaker options, make sure you find our speaker blog here!
Best Quality Drone to Buy
DJI Phantom 4
By far and still the most ultimate in consumer drones. With unbeatable video quality and stability technology, the Phantom 4 does not only produce the best in aerial videography in an easy to use package. Link to your phone then go!
Most Portable Drone to Buy
ZEROTECH DOBBY Pocket Selfie Drone
Taking the holiday season by storm, the ZEROTECH DOBBY Pocket Selfie Drone has been the dream product so many potential drone adopters have wanted. In the smallest possible package, you can easily fit it in your backpack so your drone can never leave your side. With a Selfie function, you can capture yourself with no trouble at all.
Best Budget Phone
Google Nexus 5X
The Google Nexus 5X is the still the best budget phone you can buy. With so many companies releasing a 'budget' phone, no other phone can compete with the Google Nexus 5X in terms of price to value ratio.
The Full Package Phone
Samsung S7 Edge
This phone's stunning design with two curved edges make the screen seem like it blends into your hand. Samsung has also placed all their cutting-edge technology and latest chips in this device to ensure the performance is just as good. Along with one of the best cameras on the market, this is our choice for the full package phone.
Best Bang for Buck Smartphone
OnePlus 3
Since OnePlus' inception, its mission has been clear; to create an affordable phone with no compromise. With the latest OnePlus 3, OnePlus continues to stay true to this mission offering high-end specs for a cost that is a cut below its competitors. For the best value phone, we say trust in the OnePlus 3.
Best Small Phone
iPhone SE
iPhone SE is the love of all small phone lover's life. Since the size boost from iPhone 5 to iPhone 6 there have been many that have held onto their iPhone 5 for dear life. Unfortunately, as with all technology, it will break and become unusable. As the hopes of small phone lovers wilted, Apple launched the SE. Finally there is a small compact phone on the market that offers specs and technology that is not small at all!
Best Value Tablet
Samsung Tablet E or A
Looking for a great tablet? Look no further, Samsung's E and A line give us a 9.6 and 10.1 inch option respectively. At a great size, with a beautiful screen, solid specs, this tablet can be a media consumption device and a casual gaming hub for your whole family!
Best Looking Tablet
iPad Air 2
The beauty of Apple products is imbued in the iPad Air 2. With the thinnest design so far for the tablet of this size, and the amazing build quality of Apple products, this tablet will leave everyone grinning when they pick it up.
Best Small Tablet
iPad Mini 4
Fancy a lighter tablet that won't weigh down your bag? Enter the iPad Mini 4. With all the features of its bigger sibling the iPad Air 2, this tablet will be sure to fulfill all your needs at a fraction of the weight.
Snap Snap! Time for some photos!
For the Budding Photographer
Nikon D5300 and Canon 1300D
Ever heard your family member or friend say, I want a proper camera. If 'proper' is what you need, please turn your heads to the Nikon D5300 and Canon 1300D. These two DSLR cameras are a great gift choice for those that want to take photography seriously but at a very affordable price. These cameras come with all the controls and features that any budding photographer will need in a package that is also easy to learn and with great resources to learn from.
Best Gift for the Trendy
Samsung Gear360
I'm sure you've heard of VR and 360 cameras a plenty this year. But did you know you can actually buy this? The Samsung Gear360 lets you take 360 pictures and videos that can be viewed on Facebook. This will surely make you stand out in the Facebook crowd.
Great Street Photography Lens
NIkon AF-S NIKKOR 50mm f/1.8G Lenses & Canon EF 50mm f/1.8 STM Lenses
These lenses are beautiful choices for the street photographer. With 50mm focal length and a wide 1.8 aperture, these are dynamic and flexible lenses that can suit any situation the real word throws at you. We promise you will be able to capture the most shots with these lenses.
Best Action Camera
GoPro Hero 5
The undisputed leaders in Action Cameras, GoPro, have released their latest and greatest GoPro Hero 5 this year. With a newly built case that is waterproof on its own, this GoPro will no longer need any bulky case for your average swims. Now with voice controls as well, the GoPro Hero 5 is packing more and more technology into this tiny package.
Great Lenses to gift
Canon EF-S 10-18mm f/4.5-5.6 IS STM
This Canon lens is great for landscape and travelling. With Image Stabilization technology from Canon, you can rest assured your shot won't be shaky!
Nikon AF-S DX NIKKOR 55-300mm f/4.5-5.6G ED VR
The Nikon 55-300 is a go to zoom lens for so many. This versatile lens makes it a no brainer when leaving the house as you have such a large focal range to play with. With Vibration Reduction, this lens will also ensure crisp images.
Tamron 18-200mm F3.5-6.3 Di II VC
Covering both wide and zoom focal lengths, this Tamron lens is great for anyone. Switch from landscape to zoom photography without having to change lenses!
Sony SEL55210 55-210mm F4.5-6.3mm
Have a Sony e-mount camera? Have no fear, we have your back too! If your friend or family member has a Sony mirrorless, this is the most versatile lens that they will need. This will be the perfect gift.
2nd Sept 2016
Hottest bluetooth speakers comparison
Bluetooth speakers are slowly becoming an everyday device for many. The simplicity, the convenience and the portability is what makes this category so attractive. With the booming demand and with more people buying these, companies have invested a lot of money to create better Bluetooth speakers aiming to become the ultimate in portable convenience. Today we will explore the best Portable Bluetooth Speaker options available to this day as each seem to have their own niche, own specialty. Of course we will take into account cost!
Best Waterproof Option
The JBL Charge 3. The Charge from JBL has always been an amazing series with improvements with every new release. This great sounding speaker has just been updated to the third generation and with this release comes IPX7 certifies waterproof protection. Now you can even submerge the speaker underwater without worry. Now you don't have to fret bringing it out for an outdoor pool party!
Value for Money Option
Although we just talked about the newer sibling, the JBL Charge 2+ is still a superb option. Still one of the better sounding options as well as having built-in speakerphone capabilities. It is loud, has a strong bass and doesn't distort much either at high volumes. It also comes water resistant (if you want waterproof check above) and doubles as an external charger for your mobile devices. With so many features and with a recent price cut due to the Charge 3 launch, this is your best bang for buck buy!
The Party Starter Option
I promise this will be the last JBL choice on this list. It was hard considering the wide variety JBL is bringing to the stage! The Pulse is the premier choice for JBL with much of the great features of their other speakers such as being splashproof, great sounding, good battery and speakerphone capability. However the feature that truly sets this product apart from not just JBL's but all other speakers on the market is the amazing LED 'pulse' lights that light up to the beats of your songs. A party starter, an ice breaker and a hype generator! If you want to stand out, this is the option for you.
Best Sounding Option
Now I know this is entirely subjective in many cases, but I believe I can speak for the average consumer that the UE Boom 2 is one of the best sounding portable Bluetooth speakers on the market right now. Improving on the previously top 3 options in 2015, UE keeps the same formula but improves the sound and the waterproofing on the second generation. The sound on these little buggers is truly staggering. Of course if you go will the less portable MegaBoom version the bass may be thicker, I would argue the portability you sacrifice won't be worth it.
Best Looker Option
Looks may not be important, but to some, they want their speaker to furnish and decorate their home. Or when taking it out, turn eyes. This is exactly what the B&O S3 speaker achieves. With a beautiful design, this speaker will sink into any interior design setting. Do not think it is all looks however. Utilising B&O's sound technology, the company has brought forward not only one of the best looking speakers but one that can fill a small room with beautiful sound.
For a more portable option however, I would also suggest the B&O A1 is another beautiful looking speaker. Hook the strap onto your backpack and you immediately have the attention of those that place care on looks. Again using the sound technology from B&O, the company has built an excellent sounding portable option.
The Ultimate Option
The Harman Kardon Aura Studio has seen many years of iteration. This latest version has Bluetooth speaker capability with built in tweeter (no more sound sticks). Although definitely not as portable, this speaker packs a punch and looks great in any home with its transparent shell. This speaker is the best of all worlds, and besides waterproofing, achieves much of what we have discussed today.
All bluetooth speakers mentioned above are available here with great deals:
>> JBL Charge 3 <<
>> JBL Charge 2+ <<
>> JBL Pulse 2 <<
>> UE Boom 2 <<
>> B&O Beoplay S3 <<
>> Harman Kardon Aura Studio <<
10th Aug 2016
Is the Fitbit Blaze the top smart wear for 2016?
Fitbit has a strong presence in the fitness tracker market. The new Fitbit Blaze is a fresh release that is more stylish, sophisticated and comfortable compared to it's other siblings, the Fitbit charge HR and Fitbit surge. Some fashion changes include the ability to interchange the watch bands between leather, steel and silicon. There are numerous improvements and differences in this new release and we will look over them shortly.
The Fitbit Blaze simply has a more attractive design. The watch can be worn anytime when working out or even casually. The 1.25 inch OLED display is very colorful, bright and easy to read undersunlight. There are 3 physical buttons to go with the touchscreen compared to one single button on the Fitbit charge. The device is designed to be fully water resistant against rain and sweat but not suitable for those who spend a lot of time in water.
Just like other Fitbit smart wears, the Blaze tracks daily activities, counts steps, monitors heart rates, detect your sleep and these data are readily available in the Fitbit app. The heart rate monitor has similar accuracy like the Fitbit surge.
This device features an exercise mode that tracks running, walking, biking, hiking and log work out activity if the duration is over 15 minutes. For those who likes to receive alerts quickly, the Fitbit Blaze has notification for calls, text and calendar.
Unlike the Fitbit surge, the Blaze unfortunately does not have a built in GPS function. However, it is able to connect and use the GPS feature of a smartphone if brought along together.
One of the distinct features of the Blaze is the Fitstar. It's a program that shows the user how a workout or warm ups can be performed by showing gif like animations.
Surprisingly the Fitbit has an amazingly long battery life of 5 days which lasts almost as long as the Fitbit surge. To charge the Blaze, the device is popped out and placed in a separate housing case.
There are other interesting features including adjustable profiles, multiple sport profiles as well as silent alarms. Here is a quick comparison between Fitbit Blaze, Fitbit surge, Fitbit charge HR if you are looking at which one to get:
Overall, the Fitbit Blaze has a vastly improved design and features. The price is also very attractive where it is significantly less than the Fitbit surge. It is definitely a great choice for those who want a beautiful looking watch that has fitness tracking features.
>> Greatest Deal on Fitbit Blaze <<
27th May 2016
Quick Budget Smartphones Comparison and Review
Many of us will look for the latest, shiniest, most powerful smartphones. However, there are also many that look for a budget phone with the best value. We have narrowed down to a list that deserves attention and will perform a quick comparison to help you make a better decision. In this article, we will compare the following devices:
| | | | |
| --- | --- | --- | --- |
| Images | Smartphone Name | Launch Date | Price |
| | Xiaomi Redmi Note 2 | Aug-15 | |
| | Huawei P8 Lite | May-15 | |
| | Nexus 5X | Oct-15 | |
| | OnePlus X | Nov-15 | |
| | iPhone SE | Mar-16 | |
Here is a quick table comparison between the devices:
Display: OnePlus X
The OnePlus X is the only budget smartphone that features a Full HD AMOLED panel 1080x1920 display. The AMOLED allows for very deep and true blacks which are very noticeable. The contrast is also very high and colors are very saturated on the display. However, if you are outside a lot, alternatives like the Nexus 5X or iPhone SE may give a better viewing experience under broad daylight with its IPS LCD display screen.
Appearance: iPhone SE
Apple is well known for its luxurious and stylish design of the phone. The aluminum made iPhone SE despite using the previous iPhone 5 frame still delivers a beautiful look especially in new colors such as Rose Gold. If you prefer Android phone, the OnePlus X which is made of glass with metal frame that has micro cuts also gives a very premium look and feel. If you do not like plastic, you can skip the Nexus 5X. Other phones such as Huawei P8 lite has a full metallic body but plastic on the side.
Lowest Price: Xiaomi Redmi Note 2
Clearly, the Xiaomi Redmi Note 2 stood out among its competitors in terms of price. The device not only has the lowest price among the budget phones but also has one of the best specifications in this relative comparison.
Memory: OnePlus X
If you want large memory, OnePlus X clearly stood out as the top choice. The device has 3GB of ram with an expandable storage slot of 128GB. If you are looking for high storage space, the iPhone SE is certainly very limited and costly in this aspect.
Battery Life: Xiaomi Redmi Note 2
The Xiaomi Redmi Note 2 has the longest battery life in relation to other devices at 3060 maH.
Best Camera: Nexus 5X
We have narrowed down to the iPhone SE and Nexus 5X since their hardware came from the more popular higher end flagship models, the iPhone 6 and Nexus 6P respectively. Apparently, the Nexus 5X did better in outdoors and selfies while the iPhone SE outperformed in close ups, low light and night time. When looking at the price together, the Nexus 5X is the clear winner.
Final Verdict
There's no single phone which is a clear winner in all areas but OnePlus X did fairly well in several including memory and display aspect. If you are looking for premium design look and feel with good camera, the iPhone SE is highly recommended. If you are just strictly looking at price, Xiaomi Redmi beats them all.
All Budget Smartphones mentioned above are available here with great deals:
>> Xiaomi Redmi Note 2 <<
>> Huawei P8 Lite <<
>> LG Nexus 5x <<
>> Oneplus X <<
>> iPhone SE <<
11th May 2016
Panasonic Lumix DMC-TZ80: pocket-sized but feature-packed
Helloooooo TZ80! The newest member of the ever popular TZ family. The TZ80 is the sibling to the previous TZ70 that was so highly regarded as one of the best bang-for-buck, all-round point and shoot cameras. So what is new and should you get the new TZ80?
Differences
The most noticeable difference is the grip design as it now protrudes a little further and is designed in a way that makes the camera easier to hold and handle.
Besides this subtle change, the TZ80 bears much resemblance to the TZ70 which has a proven layout and size combination.
Why TZ80 when Smartphone?
Smartphones will always have one limitation. Due to the thin profile of phones, it is impossible to add optical zoom without seriously affecting the bulk of the device. As such this is where point and shoots still shine brightly.
The TZ80 carries over the 24-720mm f/3.3-6.3 lens from its predecessor which allows it to be extremely versatile. From a wide angle to a telephoto zoom focal length, the TZ80 can do it all.
The TZ80 even as an AF Macro mode allows it to focus at a distance also of 0.03m at 24mm allowing you to take close up photos with nice bubbly backgrounds. At the same time you could then switch it back and use the point and shoot as a landscape shooter.
What are the other bells and whistles?
The new TZ80 comes with a touch screen (finally) which comes in much more handy than you would expect on a device like this. You can point on an object on the screen to select it for focus, changing settings is a breeze and browsing pictures is smooth. Also, TZ80 has amazing post-focus function that allows you to decide what to focus after you've taken the photo.
Wi-Fi is also built in for quick and easy wireless transfers to your phone for that Instagram speed.
Image Quality
The TZ80 has a 1/2.3 inch sensor, taking photos with a resolution of 18.1 mega-pixels. The images from this device were beautiful, with great colors, contrast and clarity. It is a very consistent shooter and never fails to make me smile when I look back at the photos taken.
What else?
The TZ80 has a few special features that help to make capturing the perfect moment easier. For example, the TZ80 can take rapid burst shots which you can then extract individual 8-megapixel frames from. TZ80 also has a Lytro-esque post focusing system. This allows you to shift the focus of the picture during post processing. These amazing features were unavailable on the TZ70.
4K Photo & Video
The last greatest upgrade of the TZ80 is the capability for 4K. Like the GH4, the TZ80 can capture 4K video which we believe will quickly become the standard for video capture resolution. This means that the camera is future proof to when 4K televisions become more affordable, allowing you to re-watch your beautiful memories at full resolution on your TV!
Final Verdict
Ultimately, the TZ80 is a camera multi-tool that has many functions and features as well as a wide and versatile lens that allows it to be used whenever. This is the main reason of a point and shoot. Something small enough to carry without burden and something that is versatile enough that can account for all situations and requirements. The TZ80 meets all these conditions at a great and affordable price. It is a camera that will last you a long time and is great to have in the drawer for any situation be it travel, event or casual snaps!
Click HERE for great deal on Panasonic Lumix DMC-TZ80!
24th Mar 2016
Samsung listened to our prayers with the Galaxy S7/ S7 Edge
Hallelujah! With Samsung's announcement of the S7 and S7 Edge, we have finally been given with what we have all been asking for. At first glance, the new S7 seems like a small iPhone 6 to 6s-esque update as the S7 and S7 Edge may not have brought anything new to the table. However this update may be what everyone has been waiting for (sometimes even against the norm for mobile updates these days). Let us explore further!
Point 1 — Bigger battery
Thank you Samsung. Thank you for not sacrificing the importance of my phone lasting the day for an extra mm in thinness. Too many manufacturers these days are foregoing a bigger battery for a hair's more thinness. The S7 and S7 Edge is 7.9mm and 7.7mm thin, whereas the Samsung Galaxy S6 and S6 Edge 6.8mm and 7mm respectively. Is this a bad thing? No. The S7 and S7 Edge actually feels nicer in the hand which we personally believe is partly due to this. Nonetheless, the main point here is this:
Galaxy S7 - 3000 mAh vs S6 - 2550 mAh
Galaxy S7 Edge - 3600 mAh vs S6 Edge 2600 mAh
I say again, thank you Samsung! Although a significant increase in battery capacity from S6 to S7, the Edge is definitely the star in this category with an outstanding 3600 mAh battery. Of course we would have to do field testing with the new "Always-On" display, but just from this increase alone, I am excited to try this product.
Samsung have claimed this increase is due to new self-made malleable batteries. Neat.
Let's hope the new iPhones and future phones will follow this trend. Fingers crossed.
Point 2 — Camera bump
Every year we hate the camera bump. It is in every single Samsung Galaxy review. Every review we talk about how much we hate the camera bump. This year they have considerably changed the design to make the bump much smaller, and much less concerning. Could it also be because of the increased thickness? Either way, hats off to you Samsung, finally.
Point 3 — Expandable storage
Last notable change is the re-introduction of expandable storage. Especially for Android users who have and usually prefer much more customization and are often power users. This was a much needed revival after the drought in the S6 and Note 5 series. Although my S6 never really ran into storage issues soon enough, at least now with the S7 we won't have to be so wary about our storage getting full.
All in all, Samsung's new S7 and S7 Edge is a very welcome update to their premium Smartphone line. With improvements we have been asking for since S5 and keeping all the beauty and features from the Samsung Galaxy S6 that we loved. However, now more than ever I expect innovation in Samsung's next phones.
Click HERE for great deal on Samsung Galaxy S7/ S7 edge!
More images:
17th Mar 2016
Xiaomi Mi 5 v.s. Samsung Galaxy Note 5
Xiaomi, proclaimed Apple of the East has unveiled its latest flagship mobile release during the MWC 2016 in Barcelona, the Xiaomi Mi 5. With an incredibly sleek design and built as well as top of the line hardware specifications, there's no doubt Xiaomi has made clear to the public Mi 5 will be a tough contender in the smartphone arena especially against iPhone 6, S7 and even the Samsung Galaxy Note 5. To prove their point, the Xiaomi Mi 5 has garnered over 14 million registrations before its first day of sale in China on Mar 1st.
Despite Mi 5 powerful specs and beautiful design such as beveled back sides and curved metal frames, a lot of these design cues are actually borrowed from Samsung Galaxy Note 5 such as exterior look. Some even say the hand feel is also reminiscent to Note 5. Upon looking closely at the specification, the two smartphones are almost identical in every way except the processor, optical image stabilization feature and price.
The Note 5 features a slightly larger dimension measuring at 153.2 x 76.1 x 7.6mm while the Xiaomi Mi 5 is 144.6 x 69.2 x 7.3mm. Due to the larger size, the Note 5 weighs 171 grams and the Mi 5 weighs 139 grams. For display, while both have touchscreen and multi-touch, the Galaxy Note 5 beams with Super AMOLED display while Xiaomi Mi 5 beams with IPS LCD. The primary and secondary camera specifications are also very similar in terms of megapixels, aperture size, video resolutions, max photo size, camera flash but there are some minor differences in other hardware and software features. In fact, the Galaxy Note 5 has a higher secondary camera megapixel compared to Xiaomi Mi 5.
In terms of memory and storage as well as battery, there's almost no difference between the two devices such as battery life where they both have 3000 maH. However, the Galaxy Note 5 supports wireless charging whereas the Xiaomi Mi 5 does not. Additional Specifications like Audio, Sensors, and Wi Fi are also the same across the two devices.
Despite many similarities between Note 5 and Mi 5, there are also some difference worth mentioning such as the processor and cellular network. The Xiaomi Mi 5 features the latest Snapdragon 820, 4-core, 1.8 & 1.6 / 2.15 & 1.6 GHz and the Note 5 utilize the Exynos 7420, 8-core, quad-core 1.5 & quad-core 2.1 GHz. In terms of cellular network, the Xiaomi Mi 5 supports dual sim and the Note 5 supports only a single Nano Sim.
With everything else looking so similar if not the same inside and outside, there's no reason one should not consider Samsung Galaxy Note 5 when looking at Xiaomi Mi 5.
For the best deal on the Samsung Galaxy Note 5, just click HERE.
For the best deal on the Xiaomi Mi 5, just click HERE.
9th Apr 2015

Step Over, GoPro: Yi Action Camera is Here

Do you know what this is?
This is the Yi Action Camera and your wallet will thank you for it.
For the last few years, GoPro has been the name on the lips of every DIY filmmaker out there- specifically, GoPro Hero.The legendary action video camera has been adopted by everyone from Youtubing mountain bike stars to amateur filmmakers looking to switch up the way they make movies. But for the first time since GoPro Hero release, a serious competitor- the Yi Action Camera has finally arrived, fresh from the minds of the Chinese Smartphone company Xiaomi.
So, we're taking a look at what this hot new competitor has to offer. The first and probably most important difference is the price, which could very well launch the Yi into the hands of consumers all over the world. The GoPro Hero costs around 812 RMB($130) and the Yi camera costs less than halfofthat at 399 RMB ($64). This kind of price gaphas many tech outlets pretty excited, as the possibility of a genuinely competitive action camera market is looking more and more like a reality.
Of course, as anyone who's bought a knockoff smartphone will know, a low price doesn't actually mean anything. But the Yi's specs look set to eclipse the basic model of the GoPro Hero. According toa blog post from Xiaomi (brilliantly, one of their demonstrated uses for the camera involved strapping a cat into a harness and having it run about with the Yi attached to it's back, which is a video I would totally watch).
Their new release will come with the ability shoot videos at 1080p and 60 frames per second thanks to a 16MP camera that comes with the coveted Exmor R BSI CMOS image sensor, which was created and cultivated by Sony. Compare this to the GoPro basic model, which offers 1080p at just 30 frames per second with a 5MP camera. The Yi Action Camera might have taken some inspiration from it's GoPro counterpart, but it looks like it might well overtake the Hero with stats that good. And, with a price that's less than half of the GoPro Hero, it seems likely that consumers well start heading in the Yi's direction. Take a look at these comparison shots from the GoPro and the Yi if you need convincing that a camera this cheap can produce results that good:
While the basic model of the Yi doesn't come with the equipment usually required to get the most out of an action camera, for a minimal price bump, you can pick up the travel edition which comes with the now-eponymous selfie stick.

Xiaomi have been looking at taking a shot at the American market over the last year or so, mainly with the introduction of lines of household electronics, but the Yi could mark their first major success in the USA. In the future, they're apparently hoping to help their customers benefit even further from their products by creating a bunch of interconnected releases that work in harmony with each other. If they can keep the prices as low as they have with the Yi, I think Xiaomi could be a name to watch out for.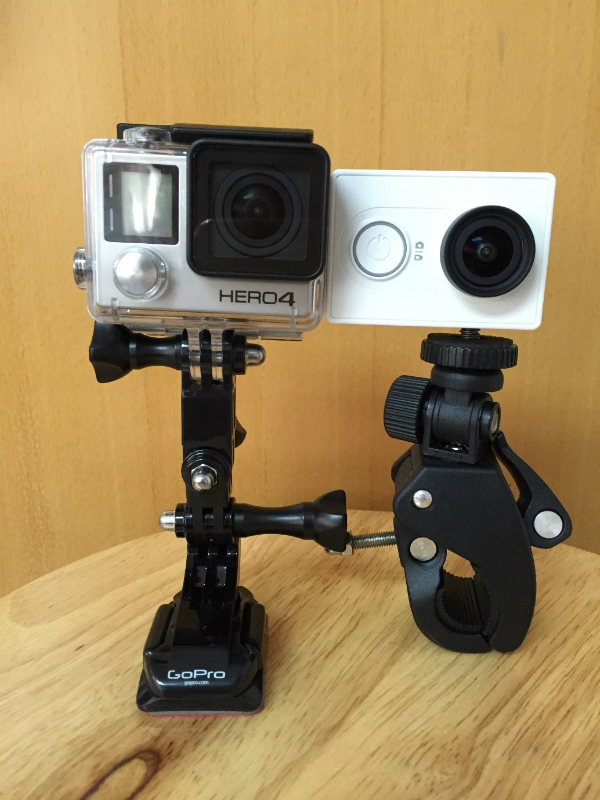 Watch the Comparison Video at our eGlobal Youtube Channel or SHOP NOW!
6th Jan 2015
eGlobal Central UK is proud to be an invited guest at the
2015 CES
- The International tradeshow of global consumer electronics and consumer
technology
that takes place every January in Las Vegas, Nevada.
Learn more #ces 2015 on Twitter & Google